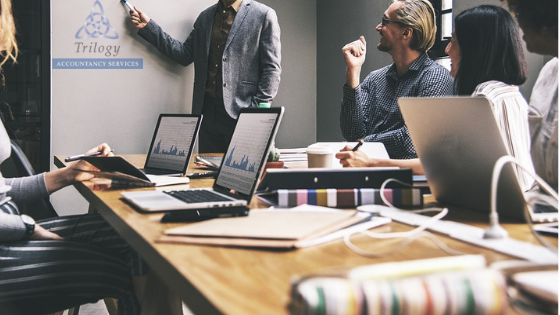 We all know that outsourcing decisions are only good when taken wisely.
You can't outsource a business utility service and assume that all the things would go well all by themselves.
Especially in case of services like accounting where a high degree of precision is needed, you must always take the outsourcing decision sensibly.
Any day at any point, your accounting goes in wrong hands and is caught, you are left with no option but to face HMRC.
For making outsourcing accounting services, the best decision for your business, opt for Trilogy accountancy services.
Why Dependable Accounting Services?
Dependability and reliability are the key metrics; any accounting services should be judged upon.
Dependability is integral feature.
Any company can concentrate on its profit making functional areas and make them flourish on their full bloom only if it knows that all other important areas are handled with care.
Where accounting is concerned, it is the task which should showcase each and every growth and development carefully.
It should be handed in good hands so cash misconceptions and deficit never take place.
A dependable accounting firm chosen would take proper responsibility of every task that it does.
You can depend with your eyes close on Trilogy accounting.
Secondly, we all are aware of fact that its figures are everything to an organization.
They are the most confidential elements for a business.
And no numbers can be hidden from accounting and bookkeeping services as it would just be a dishonesty to company itself.
Accounting and bookkeeping services make accounts for the sake of companies only.
On the other hand, if these numbers get to wrong hands, companies can face very adverse consequences.
Just imagine, if everyone would know where and how much a successful firm invested to top the charts, how would the company manage to stay above competitors for long.
Hence, only the people who are reliable should be trusted for such information.
Trilogy provides utmost security to your numbers.
They are disclosed and communicated to only those to whom our clients allow.
The Way In-Between Hiring In house And Outsourcing Accounting Services:
Many firms like to take the way between the outsourcing and in-house hire.
It is most prevalent practice among those budding firms in the United Kingdom who cut their costs or manage the ease by this.
According to an analysis conducted by Trilogy, those firms do suffer various lags in their operational machinery.
Also that study concluded the fact that those firm were found to have slowed down their pace of development during this implementation.
In this application, some of the accounting department is recruited in-house and rest of the tasks are assigned to the outsourced accounting services.
Well, this decision may be considered due to several factors. People may do it on the subject of:
Economy
Effectuality
Ease
Availability or other factors.
This is not a good practice. One should let the whole accounts under only one lead.
In other words, a centralized comprehensive solution should be taken in practice so that the operations can go sailing.
Trilogy provide such comprehensive accounting solutions by providing every basic to augmented service to its clients.
Why Only Comprehensive Accounting Services Should Be Opted For?
Processing of accounting information takes a lot of coordination, team work and precision.
No Work in accountancy can be conducted smoothly without coordination actually.
The reason behind is that if anything goes wrong at initial stage such as in bookkeeping, the rest of the accounts would be processed wrong.
At the end, it would be a blame game where no one without close scrutiny would know where the problem was.
It is hence better to let one person manage the whole functional area of accounting.
That would make it easy for him to inspect work at several stages.
Also it would be easy to judge the black sheep.
How One Attains Financial Stability?
Financial stability is a feeling of contentment in which a firm is working easy with cash.
It can only be attained when the accounting solution is keeping proper track of all receipts and payments.
Also then, the accounting firm needs to allocate funds on the basis of correct numbers.
The financial decisions must also be taken on the basis of such data only.
This all would result in a financial stability. Reliable and plenary accounting solutions can contribute a lot to the stability of finances.
Why to Choose Us?
Serving with the comprehensive solutions that are helping clients to lead the markets, we provide the best accountants in Wolverhampton to work with.
Here are some of the features of our services which make us stand different from our competitors
Sticking to commitments
Experienced experts
Working with 100% client satisfaction
Flexible services
Innovative and Up-to-date Expertise
Considerate and Polite accounting experts.
More than 10 years of experience in the industry.
Our work speaks for us and so we have 90% of clientele approached us in influence of word of mouth by their colleagues.
For your convenience, our hardworking staff is available 6 days a week for queries and 5 days for work.
What Does We Provide?
Trilogy accounting gives you a feeling of tranquility by standing on shore with each and every utility accounting service.
Whether you want to avail a simple bookkeeping service for your small business accounting or you want to have a complete accounting solution for big business, we owe you both sorts of solutions.
Here is what we deal in:
Earnest Bookkeeping Services
Expert Accounting Services
Well timed and Updated Taxation Services
Professional VAT services
Smart Financial and corporate consultancy services
Detailed Self-Assessment Services
Punctual Payroll services
We have our experts for each of the disciplines that we provide expertise in and we assign experts according to their respective prowess.
We engage our best people for the tasks that you rely us for.
Call us at 01902 451 222 and hire today.